Head torches are a great addition to your fishing gear if you do night sessions. They create a great light source while being able to keep your hands free to land a fish during the dark. There's a variety of head torches available with different brightnesses and colours. This guide will explain what to look for in a good head torch and recommend the best ones for 2021. We also have a Buyers Guide to Bivvy Lights if you're interested in that.
RECHARGEABLE OR BATTERY POWERED?
Rechargeable head torches are becoming more popular as time goes on. Typically most head torches are able to be recharged through a USB cable which is helpful if you have a power bank. Some companies also sell spare batteries allowing you to always have a back up. 
Battery powered head torches will typically take lithium or alkaline batteries in smaller sizes like AAA or CR2032. Also, if you're using an LED head torch and the batteries get low the torch wont dim and will just switch off. Although, there are battery powered head torches with up to 30 plus hours.
WATER RESISTANCE AND COMFORT
If you plan on using the head torch outside like many anglers, then you're going to want a head torch with a high water resistance in case it rains. 
You're also going to want a head torch which is comfortable. Head torches have different strap materials and weights but if you're looking for maximum comfort, then going for a head torch with a softer head strap and a lower weight will be the best option. Some heavier head torches will have an extra strap across the top of the head to prevent the front from slipping down.
LED HEAD TORCHES  
The most common head torches now use LEDs to emit light. The two main types of LED head torches are single LED and multi LED. LED torches are also available in either high or low powered and are sometimes adjustable. The higher powered head torches will emit more light however they will drain the battery faster than a low powered torch. 
Also, LED head torches will have a certain amount of lumens. Torches with a higher number of lumens means the brighter they are. Although for fishing you can get away with a low lumen head torch if it has a more focused beam.
Most single LED head torches come equipped with a magnifying lens which increases the amount of emitted light. This allows more compact head torches to emit a good amount of light efficiently for many hours.
The most common type of LED head torch is the multi LED. Multi LED head torches will emit the most amount of light and can be available with different brightness settings. Being able to lower the brightness is useful to extend the run time if the battery life is running low.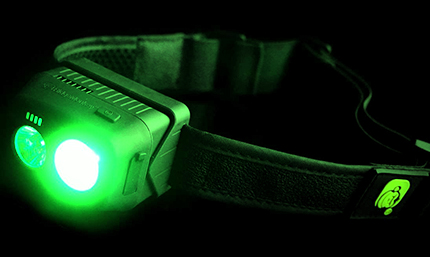 This top of the range head torch is perfect for any fishing situation and offers great visibility during the night. The torch is USB rechargeable and has a long battery life. Also available with its multiple brightness and colour settings. The head torch has a comfortable strap and a fully waterproof rubber design. Although this is one of the more expensive head torches on the market it is definitely one of the highest quality torches.
This Nano head torch from Gardner is great for angers with a lower budget. It's small and lightweight while still having up to 32 hours of battery life on its higher settings. The head torch is easy to use and fully waterproof. It also has a fully adjustable strap allowing for maximum comfort.