There's a variety of sleep systems within the fishing industry today ranging from cheaper and more compact to wider and padded. Below is a list of the most comfortable sleep systems within different price ranges for 2021.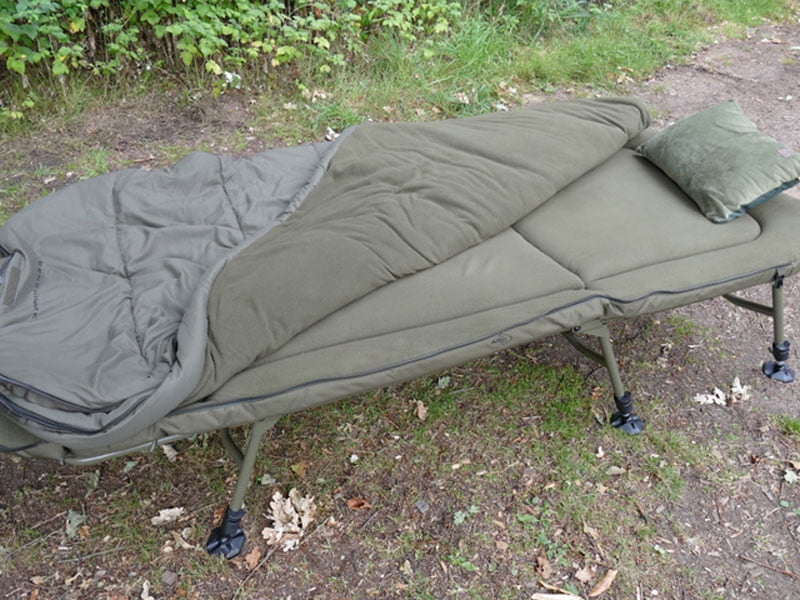 The Avid Carp Benchmark X consists of a twin-layer four season removable sleeping bag. The Sleep system features luxury memory foam and fleece covered mattress. And is the perfect choice all year round for many anglers. Also including extra large swivel mud feet with adjustable legs.  
Dimensions: L 210cm x W 100cm x H 60cm
Transport Size: H 85cm x W 75cm x  D 30cm
Weight: 18kg
The SK-TEK sleep system has been constructed from a robust steel and aluminium frame. For maximum comfort the duvet is fleece lined with a smooth stubble neck lining and a wide high density foam pillow. Also including a lumbar support system through the centre of the bedchair to prevent sagging and help back support.  
Dimensions: L 212cm x W 84cm x H 43-58cm
Transport Size: H 30cm x W 84cm x D 87cm  
Weight: 12.5kg
Nash has a wide variety of sizes within the indulgence range. This particular model is the four season SS3 which is one of the taller designs and ideal for bivvies with a greater headroom. The design features a power pack pocket on the underside allowing USB connectivity for charging mobile phones.
Dimensions: L 212cm x W 87cm x H 32-40cm
Weight: 11.7kg 
With the oval design the Trakker Levelite has been designed for optimal use of space. This bed also features a fully adjustable lumbar spine allowing the firmness to be altered to preference. Also featuring a unique extendable leg mechanism making it easier to adjust to uneven grounds. The design also allows for a very compact pack down making it easier for transport. 
Dimensions: L 210cm x W 90cm x H 33-42cm
Weight with Bag: 15.4kg
Weight without Bag: 12kg