Rod pods have become extremely popular within modern day Carp fishing and are great for holding multiple rods. They come in a wide variety of prices, ranging from £20 to over £400 making them accessible to anglers with any budget. They are also usually adjustable to make them suited to different situations and the amount of space you have access to. 
Typically the more expensive pods are more adjustable allowing them to change angles, heights and lengths quickly. This list will present the best rod pods at different budgets and explain the key features of each.
The low to mid budget will include quality pods for under £200, and the higher budget pods will feature prices above £200.
Budget: Low to mid
This is a great quality compact pod available in a two or three rod pod style. The pod provides a stable place to rest rods while being fully adjustable to whatever bank or platform you're fishing from. The legs can also be taken from the pod and used as banksticks on the softer grounds.
Budget: Low to mid
This pod from JRC is lightweight while maintaining a strong aluminium construction. It also packs down into a small padded carry case which is provided with extra storage space for indicators and alarms. The pod is also very adjustable with the legs at their lowest point being 23cm and at their highest extension will reach 75cm.
Budget: Low to mid
The Fox Horizon is available in both 3 rod and 4 rod pod versions. Now designed with two center poles for extra stability. This pod is also highly adjustable with four leg position angles and adjustable heights and lengths.
Budget: High
The Fox Ranger MK2 is extremely adjustable and can be adapted to any fishing situation. This pod has six leg angle positions. Also only needing two and a half rotations to secure the legs in place, making it easy and fast to adjust. The minimum length the legs will adjust to is. 88cm while the maximum length is a staggering 160cm.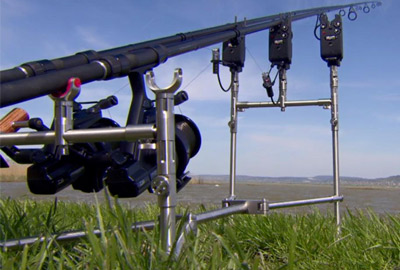 Budget: High
The JAG 316 is designed to be as stable and as durable as possible. Also coming with two anchoring points and supplied carabiners this pod is great in all weather conditions. The pod is also adjustable allowing it to be made as long or as compact as you need.