This guide will cover why you might want to use fluorocarbon as a mainline and different situations it can outperform mono and braid. We also have two more in depth guides to fishing with Monofilament and Braid.
WHAT IS FLUOROCARBON?
Fluorocarbon also known as Fluoro is an alternative to mono and braid and is mainly used as mainlines and leaders. Fluoro looks similar to mono however it does have a few differences. 
Firstly, It is made from polyvinylidene fluoride rather than nylon and is much less visible. Another advantage over mono is its higher UV resistance which allows it to last a lot longer than mono when exposed to sunlight. Although it's a popular used line it is the most expensive type of line out there. 
WHEN WOULD I USE FLUROCARBON?
Fluorocarbon is great in most fishing situations. However it out performs both braid and mono when fishing in clear waters. The line is basically invisible as it is created from materials which have similar refractive qualities as water. Having a near invisible line is great for overfished waters and will definitely make it harder for the fish to spot making them more likely to go for the hook bait or lure.
BREAKING STRAIN AND DIAMETER
Just like other lines, the breaking strain will mainly come down to the size of fish you're catching. For bigger species taking a higher breaking strain will be the best option. Breaking strain will also usually go hand in hand with diameter. The stronger a line is, the wider the line diameter. Although the diameter to breaking strain ratio is a lot less than mono which allows stronger lines at thinner diameters.
BEST KNOTS TO TIE?
There are a variety of knots great to tie with fluoro. A popular one is the grinner knot which is easy to tie and has a great hold. The grinner knot is similar to the classic clinch knot, however the clinch knot has been known to slip when using fluoro. Another great alternative is the palomar knot which is great with all types of line and has a great hold.
FLUOROCARBON VS MONOFILAMENT
Monofilament has always been the most popular line and is a great all round mainline. However, Fluorocarbon has gotten more popular during modern day fishing. Other than the price difference there are other noticeable differences between the two and why some anglers choose fluoro over mono. 
Fluorocarbon has a much lower visibility which makes it great for fishing with lures as the fish will find it harder to spot the line connected to the lure. Another reason is the sensitivity, it can vary from brand to brand but some fluoro lines have a lower stretch than mono making them more sensitive and easier to feel bites. 
Fluoro usually also has a much lower diameter than mono for the same breaking strain which can make for better distance casting at higher breaking strains. Furthermore, fluoro will sink a lot better than mono due to its density.  
POPULAR FLUOROCARBON MAINLINES
This fluoro is available in two breaking strains, 16lb and 19lb, also available as 200m or 600m lengths. The line has extremely low visibility making it great for catching wary fish. The fluoro is also extra supple and great for tying strong knots.
Key Features:
- Super low visibility
- Low diameter
- Super supple
- Fast sinking
The Korda kontour is available in 12lb with a spool of 200m. The line is great for all round fishing, especially for fishing at longer distances. This fluoro has been tested and anglers have stated that they are able to cast it with pin point accuracy up to 100 yards. The line is also highly abrasion resistant and will work for fishing close to snags. 
Key Features:
- Sinks well
- Great for casting
- Good knot strength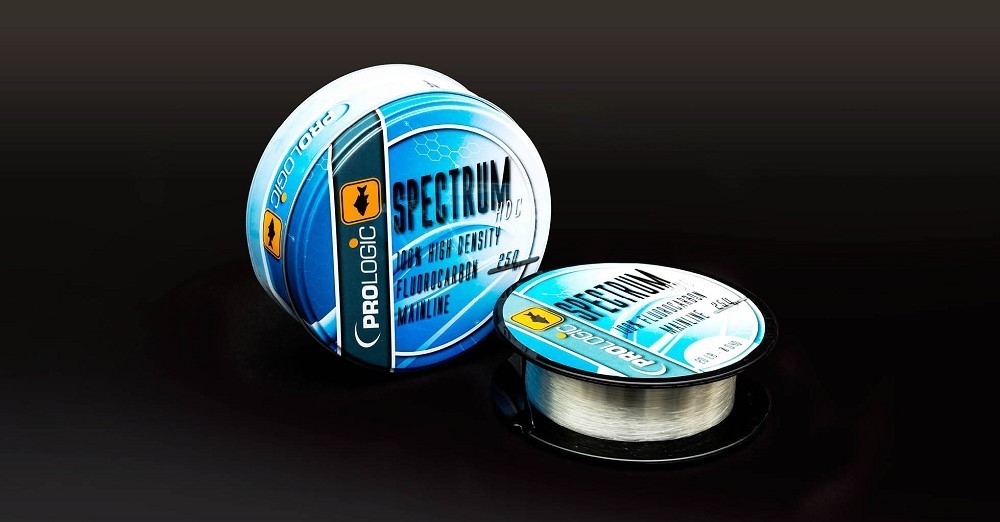 The Prologic's Spectrum has been designed for strength, high abrasion resistance and toughness. The fluoro has also got a high density making it sink really fast. The line is available in three sizes, 10lb, 12lb, 15lb and 20lb. 
Key Features:
- Low stretch
- Anti-coil
- Super fast sinking
- Low visibility