GUIDE:
Despite water and fishing being intrinsically linked, getting wet on the bank isn't something us anglers particularly enjoy. This is especially true when fishing in the UK as it can quickly go from lounging in your chair eagerly awaiting the next run under the sun to having to dive for shelter under your brolly when an unexpected downpour comes out of nowhere.
While we can't control the weather, or when our next PB while bite, as anglers what we can do is choose an appropriate fishing umbrella to suit our needs. But with such a wide range of fishing brollys for sale, how do you buy the right one for you? 
BROLLYS VS BIVVYS
Firstly you need to decide whether you want a brolly or a bivvy. Brollys are typically smaller, more lightweight, cheaper and more suitable for short day or overnight sessions. They are typically more open than bivvies and don't typically come with some of the features that can be found on bivvys such as overwraps, ground sheets, vents or caps (read up on these here). 
Most fishing brollys bear little resemblance to your standard everyday umbrella. They do use a pop-up method you will be familiar with, but often they will be able to free stand on their sides without the need for central support. This is important because it creates more space underneath in which to relax
So if you need a lightweight shelter to protect you from the elements on short trips, here are some of the things you need to decide on when buying a fishing brolly.
SIZE
Fishing brollys come in a wide range of sizes, from the compact Fortis Recce Umbrella with a 41 inch diameter, to the tried and tested Fox 60 inch brolly and onto the 90 inch Daiwa Mission Overnighter brolly pictured above. 
The first question you need to ask yourself is "am I going to use this overnight", if so you do not want to go smaller than 60 inches as you'll need to be able to lay down and sleep under it.
Fortunately we have done the hard work for you and created a size feature on the brolly shop page for you to filter out fishing brollys to suit your size.
While deciding on the size, it is also useful to pay attention to the number of support rods it has. The more support the better the brolly will be able to withstand strong winds and the longer it should last - but the more metal it has the heavier it will be
TILT
For those fishing brollys that have a central support rod such as the Preston Space Maker Multi Brolly 60 Inch, the ability to be able to tilt the umbrella so that it can provide additional protection against rain moving in changing directions
You may find that some brollys don't have this rod in the middle and therefore don't tilt. This is because they sit at a 45 degree angle on the bank, providing a greater range of protection.
However those that use a pole and the more traditional pop-up system found on standard household brollys are typically lighter and can be folded down a lot more compactly, and can often be stored alongside your rods in rod holdalls. 
WEIGHT
Weight is an obvious one, as the lighter it is the easier it is to carry. Some brollys such as the Sonik Armatek 60 Brolly at 13.2kg can weigh more than some bivvys, such as one of our favourites in the office the Nash Titan Hide bivvy at 4.6kg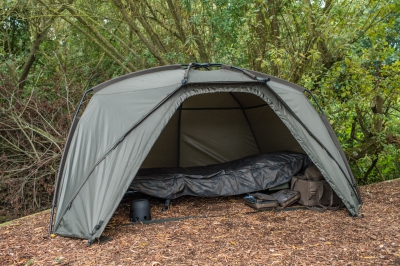 As you can see from the image above, despite being labeled as a brolly the Sonik Armatek could easily be used for longer sessions as it has built in vents, a groundsheet and it's extremely waterproof
HYDROSTATIC HEAD
The brolly's hydrostatic rating, or hydrostatic head as it is also known, is going to play one the major decision making factors in your search as it relates directly to how waterproof the brolly is. Typically measured in mm, as a general rule the higher the rating the more waterproof it is going to be.
This can be a strange concept, why would a fishing brolly be less waterproof than another one, surely I want it to keep me dry! In scientific terms It measures how tall a column of water the fabric can hold before water starts to seep through the weave. A Hydrostatic Head of 5000mm means that a bivvy fabric could hold a column of water that is 5000mm tall) so a higher HH rating is better. A higher rating also helps with breathability, which may not be at the forefront of your problems when it is raining but during those long summer days it definitely will be.
We break down the numbers into waterproof, very waterproof and extremely waterproof for you on the shop page
3,000mm - 5,000mm: Waterproof
5,000mm- 14,000mm: Very waterproof
14,000mm+: Extremely waterproof
We know this can be a really tough decision for you, so we have created a wide range of filterable features on the brolly shop page to help you narrow down the range to a more manageable size. The features we have talked about above can all be applied.
Remember that at TackleTarts we are always here to help. If you have a specific question about a product you can post it on the product page, and our community of anglers will get back to you. If you have a more general question about fishing brollys head to our community forum page and ask!