The Pole uses elastic to help control and increase flexibility during the fight of a fish. Pole fishing is a great and thrilling style of catching fish but if you're a novice angler there's a lot of confusing components like bungs, elastics, bushes and more. This guide will explain everything you need to know about what type of elastic you should use and how to use them.
WHAT TYPES OF ELASTIC ARE THERE?
There are two types of pole elastics, solid and hollow. Hollow elastic is typically higher quality and will last a lot longer than solid elastics.
SOLID ELASTIC
Solid pole elastics are generally cheaper and will not last as long. It comes in two different strengths, light and heavy. 
LIGHT: If the elastic is between no3 and no8 then it is classed as light elastic. The lighter solid elastics are great for smaller fish like skimmers and rudd. 
HEAVY: If the elastics strength is between no8 and no20 then it's classified as heavy and will be a great option for fishing larger fish like carp.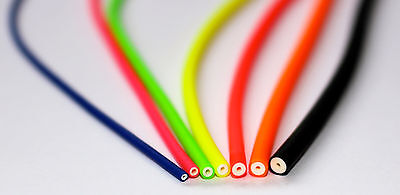 HOLLOW ELASTIC
Hollow elastics are a lot softer than the solid elastics and will have a greater stretch while maintaining the same strength. Hollow elastic comes in three strengths, light, medium and large.
LIGHT: Light hollow elastics are really stretchy and will be graded between 1 and 5. It is great for a variety of fishing situations, It's mainly aimed at slightly smaller fish but it can handle some bigger fish.
MEDIUM: The medium elastics are rated between 6 and 12. They are most commonly used to catch carp and F1's.
LARGE: Anything rated over 12 will be classed as large. This elastic is great for the larger species like big chub, carp and barbell. 
WHAT ARE PULLA BUNGS?
Pulla Bungs attach to the bottom end of a poles top kit allowing the elastic to be pulled through it. When playing a fish using the top kit, pulling through some elastic from the bottom will tighten the elastic and give you more control over the fish. Pulla kits are a great idea if you're using hollow elastics as they can be extremely stretchy and will help you land bigger fish..