WHAT ARE BITE INDICATORS?
Bite Indicators are used alongside a bite alarm and is another useful way of identifying whether or not you have a bite. The two main types of indicators are bobbins and swingers. They also come in many shapes, sizes and colours. The indicator is perfect for detecting drop backs, when the indicator drops it shows that the fish is swimming towards you and if it rises then the fish is swimming away. 
BOBBINS
Bobbins can be identified by the chain which connects them to the alarms. In simple terms it's a small weight that connects to both the line and alarm and indicates by moving up or down. It gives an accurate reading of bites, however it can move around if the weather is windy.
SWINGERS
Swingers are easily identified by the arm. The swinger can be attached beneath the alarm and the arm will hang and connect below the line. Swingers can be a better option if you're fishing in higher winds due to the stable bar.
Korda is well known within the carp fishing industry and this sleek designed boobin is of great quality. The bobbin includes four different lengths and weights, small, medium, large and XL and can easily be adjusted for different situations. This bobbin is available in both black or white with an insertable green isotope. The bobbins grip strength to the line is also easily adjustable with a twist.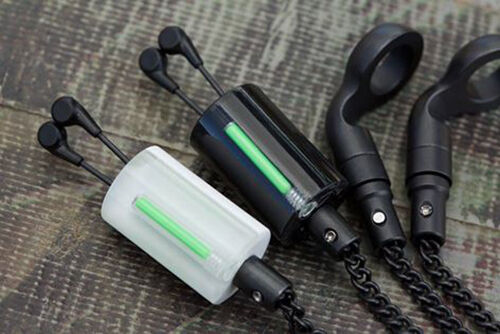 The Fox illuminated swingers are a great addition to your carp tackle. The widened design at the front and illuminated option increases visibility. For the illumination to work it will have to be connected to an alarm with a power out facility. The sturdy arm creates accurate readings, also including an adjustable spring loaded tension system.
The ESP barrel bobbins are available in seven different colours, all being highly visible. They also come with two types of grip clips and two different lengths of chain. The weight can be adjusted to 5, 8 or 11 grams and is versatile enough to be fished with tight or slack lines. The price is at the low to mid range of indicators and a great option for any angler.